In construction projects there are chances for unforeseen events to take place.In such situations if the contractor is unable to perform his duties as per the contract,then Force Majeure clause allows him a relief.However it is important to know the grounds that you can submit your claims under this clause.While Force Majeure clause supports the parties to the contract to excuse from their duties,it is necessary to identify the situations that can classify as unforeseen events.
In this post,I want to discuss the scenario that you can apply force majeure clause to your contractual disputes.Let's discuss.
Introduction
In construction contracts Force Majeure clause plays an important role during the project administration process. Basically, a construction contract is signed by agreed parties to the contract with proper understanding of their responsibilities. During the construction process there are many chances that claims and disputes arise. In such situations, contract document is important to find out responsibilities of each party to the contract.
Force majeure clause is one of such clauses which help identifying the risk and grounds for the claims such as EOT claims.
What is Force Majeure?
Force majeure, also called as Act of God, relates to the events which is beyond control of human or parties to the contract. These are unforeseen events. Both parties to the contract cannot force or control or avoid such events fall under 'Force majeure' or 'Act of God'.
Therefore parties to the contract will get excuse from certain tasks during the period of Force Majeure event happens.
What are the Force Majeure events under construction Contracts?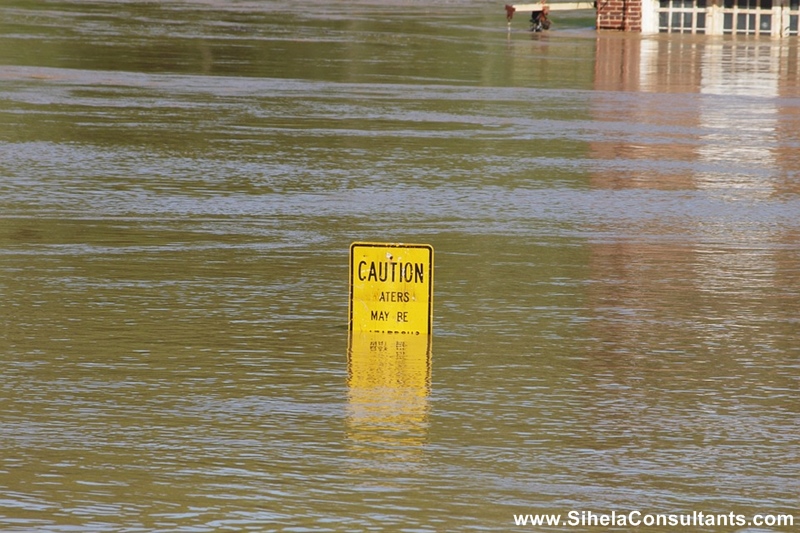 Events fall under Force Majeure are usually adverse weather conditions such as earthquake, rain, heavy floods, storm and other events including war, terrorism, strikes and industrial acts. These are beyond control of the parties to the contract including contractors and sub-contractors.
Such events beyond control of the parties to the contract are also known as 'Acts of God'.
Such 'Acts of God' incidents can cause delay in project delivery on time.In Acts of God situations,construction sites may shut down for few days as the team cannot perform their duties.
Effects of this clause
According to the signed contract, parties to the contract agree to perform their duties within the agreed terms. Therefore if any party fails to perform their duties, it will categorize as breach of contract if there is no reasonable grounds.
However if the reasons for not performing your duties are due to Act of God or Force Majeure, then you may get excuse of not performing the tasks.
To get such excuse, you have to prove that your inability to perform the construction work is due to an event or events happened which are under Force majeure clause.Or events beyond your control.
Typical claims under Force Majeure clause in Construction contracts
Basically, Force Majeure or Act of God events create the grounds for EOT claims. Contractors who fail to continue work due to an event mentioned under Force majeure clause can request Extension of Time for the project completion period with proper supporting documents. The contract period and date of completion may revise if the claim is properly submitted with proper evidence.
This clause is helpful for contractors mainly to avoid Liquidated damages for late completion of the project.
Real life Example
Do you like to read an example of claim situation under this clause? Although I have experience in similar situation in different construction projects, one is from Sri Lanka during the Tsunami.
The project was construction of steel railway bridges across few different rivers in Sri Lanka. During the Tsunami in 2004, site was damaged including the material and equipment due to this natural disaster. One of the damaged resources included the floating Pontoon used for easy access of locations across the river. This Tsunami disaster delayed the site progress from few weeks. This scenario fell under force majeure events which created grounds for few claims. As I remember, the situation created grounds for EOT claim and even insurance claims for damaged site resources.
Also read about the latest situation which can claim under Force Majeure : Impact of COVID-19 Virus on Construction Projects
However to clearly explain the contractual grounds for such claims, Project Manager and other site staff had captured photos, weather data and other resources from the day the event has happened.
This is why proper documentation is important in any construction project management.
How to submit your claims under this clause?
Although there are no such claims exactly fall under Force Majeure clause, this clause and Act of God incidents make grounds for EOT claims. Therefore if your project undergoes such situation, you have to prepare all evidence to submit relevant claims.
Proper communication is always important to win your claims including EOT claims. This is why you have to notify the relevant parties within reasonable time and within the time period specified in your conditions of contract without delay. You have to notify the architect or contract administrator or the person mentioned in your contract about the situation and your intention of submitting a claim.
Following this initial notification, it is necessary to submit a detailed claim with sufficient information if you apply for Extension of Time or other claims that are due to the force majeure event.
What are the requirements for Force Majeure clause
For the force majeure clause to take effect you have to fulfill below requirements. Before submitting a claim under this clause, check whether you can fulfill the requirements under this clause or not.
Check list for force majeure clause
Is the event beyond your control?
Is the event causes delay in construction performance activities mentioned in the contract?
Who is at risk of not performing the contractual requirements?
Is the party at risk has acted diligently to mitigate the risk?
Do you have data, supporting documents to prove the incidents as Act of God?
If your answers are yes and satisfy the requirements under force majeure clause, then you can prepare for your claim submissions.
Together With your claim you have to provide details and evidence that shows the reasons for the delay which are according to the force majeure clause.
Above is a basic explanation of Force majeure clause in construction contracts .You have to refer your conditions of contract to find specific terms before applying to any project.
If you have any doubt related to your contract, Force majeure clause and grounds for any claim, do not hesitate to contact me.
Also read: what is retention money in construction contracts
Please follow and like us: