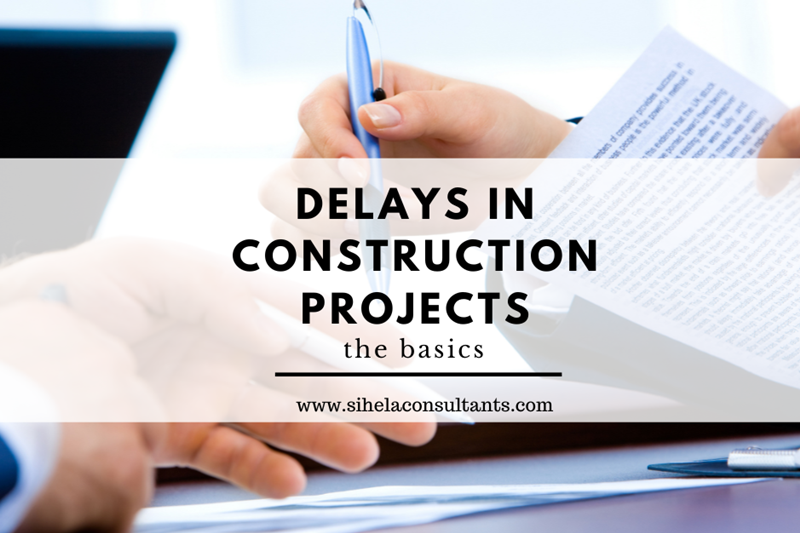 Delays in construction projects are a common issue that can arise due to various reasons. These delays can have significant impacts on the project's timeline, cost, and overall success. I thought of sharing a post series that gives a better understanding of delay, effects, and claims that arise due to delay events. However, remember today's article doesn't give much detail on delay events and claims. This article is just a start of a series that I am planning to write.
Who causes delays in construction projects?
Construction projects can be delayed due to different parties. The causes can be due to contractor delay, employer delay, and even a reason that is beyond the control of either party (Neutral delay). Therefore, before assessing a delay claim situation, it is required to identify the cause of the delay and its entitlement to claim.
What are the claims and remedies for delay events?
Though I don't plan to explain claim situations in this post, I just want to mention that there are different remedies provided in construction contracts as remedies to possible delays. The extension of time (EOT) and Liquidated Damages (LD) are the most popular remedies provided under construction contracts to protect the contractor and the employer respectively. However, not all delays are entitled for the contractor to claim EOT. On the other hand, the Employer cannot impose Liquidated Damages on the contractor for all delay events. This is why we should identify the cause for the delay before analyzing the entitlement for any claim situation.
Causes of Delays
Here are some common causes of delays in construction contracts:
Weather Conditions: Extreme weather events, such as heavy rain, flood, snow, hurricanes, or heatwaves, can disrupt construction activities and cause delays.
Material Shortages: Delays may occur if there are shortages or delays in the delivery of construction materials, which can be affected by supply chain issues or unforeseen circumstances.
Design Changes: Changes in the project's design, either due to client requests or unforeseen issues during construction, can lead to delays as contractors need to adjust their plans.
Permitting and Approvals: Delays can occur if there are delays in obtaining necessary permits and approvals from local authorities or regulatory agencies.
Labor Shortages: Shortages of skilled labor or labor strikes can slow down construction progress.
Unforeseen Site Conditions: Discovering unexpected site conditions during construction, such as poor soil quality or hidden underground utilities, can lead to delays as the plans need to be revised.
Contractor Performance: Delays may occur if the contractor does not adequately manage the project or fails to meet the agreed-upon milestones.
Payment Issues: If there are payment disputes or delays in paying contractors and subcontractors, it can lead to delays in the project.
Disputes and Litigation: Legal disputes between parties involved in the construction contract can lead to delays while issues are resolved through alternative dispute resolution techniques such as negotiation, mediation, arbitration, or even under litigation. Read more on construction disputes here.
How to mitigate delay events
To address and mitigate delays in construction contracts, consider the following steps:
Comprehensive Planning: Develop a detailed project plan with realistic timelines and contingencies to account for potential delays.
Effective Communication: Maintain open communication among all stakeholders, including the owner, contractors, subcontractors, and suppliers, to address issues promptly.
Risk Assessment and Management: Identify potential risks early in the project and implement strategies to manage and mitigate these risks.
Clear Contractual Terms: Ensure the construction contract includes clear terms regarding timelines, milestones, and procedures for handling delays and changes.
Regular Project Monitoring: Continuously monitor project progress and address any issues that may lead to delays promptly.
Collaboration and Cooperation: Foster a collaborative environment among all parties involved to work together in resolving issues and achieving project goals.
Contingency Budget: Include a contingency budget in the project to cover unexpected delays or changes.
Timely Problem Resolution: Address problems and disputes promptly and professionally to avoid escalation.
Lessons Learned: After project completion, conduct a lessons-learned session to identify areas for improvement in future projects.
It's essential to approach delays in construction contracts proactively and cooperatively to minimize their impact and ensure the successful completion of the project.
What are the other causes of delays in construction projects? Please share as a comment below.
Please follow and like us: